Mechanics need Ads Auto Repair to have more clients drive-ins. To make this happen a good advertisement is important to make your first-class service reach more people.
As your Ads Consultant, I will help you out to make the best out of all the advertising platforms.
So, what are we waiting for?
When you never make your clients wait for their car repairs for long.
Let us learn advertising for your Auto Repair Shop –
How Do I Advertise My Auto Repair Shop?
There are many ways where your Auto Repair Ads can be shown. As a result, these can then be sending you clients to your garage.
A good advertisement can help you get more clients with a really rewarding ROI. All you need is the inspiration for car repair ads. These can help you create ads that are working.
Platforms like Google, Facebook, and Yelp are used by car repair shop owners. Some even use flyers. We will talk about every type of advertising platform and what kind of adverts are working.
Auto Repair Advertising Flyers
Flyers are still working and most of the companies use this way for advertising their businesses. As you can handle them to people straight. It has high readability.
With many software and easy UI. It has become easier than ever to make your own without the help of any third-party printing or designers. You can take inspiration from these Flyer examples.
How they have used the design with features described in the best way and giving a discount on the same. You can build your own from these.
Here is a Flyer Template for you by BayIQ –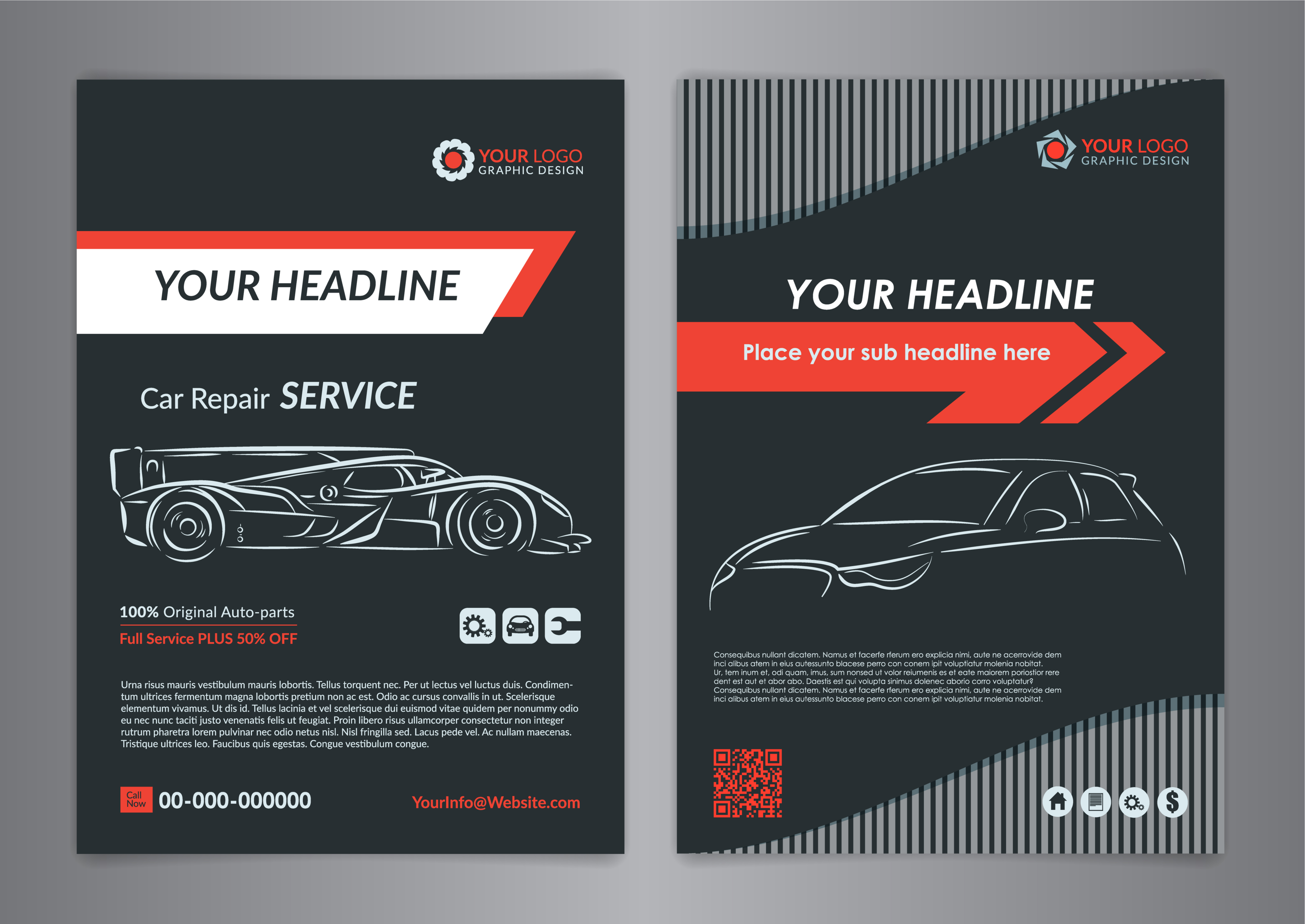 These were the flyers and all that you need to use through offline modes. Now let us switch to online mode –
Google Advertising for Auto Repair
Google is the search bar that is used by almost everyone to know about a near buy location or a solution for some problem.
Similarly, Google is used by people to search for "auto repair" or "car repair" near them. You can leverage it and advertise yourself with Google Ads.
Here are some examples of how mechanics and car repair owners are using Google Ads to target people based on their search intent.
To advertise on Google helps you target people based on location and search intents. This helps you get clients through advanced targeting.
Car Repair Near Me
To list in the top searches when searched for car repair or auto repair near me. You have to claim your profile at Google My Business.
This will help you get your profile shown to people when searched for keyword related to yours.
You can optimize your profile by listing the proper address and contact number.
You should also ask past and future customers to rate you on Google. This helps you to get more clients based on social proof created by reviews.
Facebook Ads for Auto Repair Shops
You can use Facebook as your advertising platform. I myself have an interest in auto-related videos. I am shown ads related to cars and repairs near me. Showing ads related to car repairs in-seam with their Facebook feed can be a gold mine to get clients.
Just like Google, Facebook provides you the platform to target people based on location, age, gender, and detailed information about their activities.
This becomes helpful to niche down the audience and shows ads to the right audience. Learn how to run Facebook Ads for Car Dealers.
Here are the examples for Facebook Ads –
These were the Facebook Ads example which you can use to run your own Facebook Ads.
Auto Repair on Yelp
Yelp and many other directories can be a great source to get more people to become familiar with your business.
People use Yelp to find review services that are indispensable even before the car is repaired. Advertising on Yelp is a simple process. Just create a profile and start attracting more customers through the search pages of the most frequently used services.
Here is how it shows the result of auto repair services in Washington, DC.
Conclusion
This is it!
These were the advertising ideas for auto repair. It is competitive and you have to create the best design with the knowledge about these advertising platforms. To get the best results.
CTA (If you feel it is too much time away from customers and it might take time for you to learn some of the platforms. I am your Ads Consultant and I will help you out with it. Drop down a line or two and we will talk about your advertising needs.)
Happy Advertising! 🙂