The more diverse your Marketing Arsenal, the more different ways for your audience to know about you. You should be using Gym SEO with Social Media marketing you already are leveraging to target your audience by now.
Ever heard of it before? Or you don't really know how to use it?
Don't worry. I will help you to tap more audience with this Marketing platform. That you will totally be owning.
What is SEO for Gyms?
SEO is the acronym of Search Engine Optimization. We are optimizing our website to rank highest when searched about "gyms" or "gyms near me". As the most used Search Engine is Google. We will be talking about it. How we will make our website be ranked by Google's crawlers?
Crawlers?
Yeah. Google uses bots to crawl or check our website to know that if it is suitable to rank it or not? All we have to do is make our website approved in every area. This will then help us to move towards the first ranking in SERP or Search Engine Result Pages.
How to make a website optimized for crawlers? –
Link Building
Link Building is also known as Backlinks. This is like a voting system done by other blogs to vote for you or linking to your blog. You can do it too. Linking to the site already established. This is how Google asses that if you are legit or not. In this way, Google starts trusting your site. But make sure you link to the sites that are relevant to your content.
You can be linking to pages related to fitness or health. But make sure you do not overdo it. It is not the "only way" but one of the ways to help you in ranking.
Content
"Content is the king". Bill Gates said this quote in the past which is so true today than ever.
If you write content that is helpful to the visitors. Google will automatically rank you #1. It makes a visitor happy when he finds the results of his need. By seeing this Google moves your content upward in the rankings.
Make sure you write the quality content without using any jargon words. Make it simple and coherent.
Keyword
Now when you are writing your content. You have to rank for a keyword. These are the words that you are targeting. The keywords basically are the Google Search someone is making to find the results. To provide the results we have to use these keywords. Incorporate them into our content.
Your keywords can be like "gyms near me", "gyms open near me" or "boxing gyms near me".
Readability
Google scores your content based on its readability. If your content is readable and easily understood. You will get a higher score. So make sure you clear up your writing. Complex sentence constructions will neither make you sound smart nor help your SEO game.
If you will use so many keywords. The reading experience of your reader will be at stake. Make sure you shorten your sentences. Start writing like Hemingway.
Plagiarism
You don't have to copy the content from others' website and paste it on yours. Doing this will show that your content is not unique. You can even get blacklisted by Google for using such ways.
Write fresh and unique content. Try to give the best experience your reader can get. Make your posts feel like you are talking to them directly.
Why perform Gym SEO?
Using Gym SEO is really an easy platform. With the help of SEO, you can get more views. There are many benefits of SEO. Let's learn what are these –
It is Free
The first and foremost advantage of using Gym SEO is that it is free. All you've to invest is your time talking to your audience sharing your knowledge. People tend to move away from it as it takes time. But this is something that markets for you in the long haul. And that too for FREE!
Inbound Marketing
You are not interrupting anyone in between their joyous times. Also, you are not prompting in between to tell about your gym. You are marketing by sharing what you know about, what the people are asking. This leads to help you get the customers based on your knowledge and expertise. This is really helpful for you as a gym owner.
Easy to Learn
Performing Gym SEO you don't need a degree. All you need is to follow our SEO tips that will help you to do SEO Best Practices.
Once you are familiar with everything. All you have to do is to refine the process by doing it over and over again.
Keyword Research for Gym SEO
To do keyword research you can take help of the following ways –
Brainstorming Keywords
Open your Excel or Google Sheets. Now type in the keywords you think your audience will be searching for. You can use synonym words. Try to put yourself in the shoes of a person searching on Google. With this way you can have a lot of keywords.
Google Autocomplete
Now hop on the Google search bar and type your keyword. See what other results Google shows in autocomplete. These can be really helpful as Google is really an expert in knowing what people mean when they search. So you can use this and pick keywords to use them.
Related Searches
This is quite similar to Google Autocomplete. All you have to do is search your keyword. Now navigate to the end of Google Search results. You will see a section of "Related Searches". You can use these to have keywords that people are searching for.
'People Also Ask' Questions
To know what people are asking related to the keyword. You can use these questions and answer them as it is in your blog. This will help you to list in these. Your ranking will also boost.
Keyword Tools
To get the one click results of keywords. You can use the tools which help you to know the keywords you can use. These are –
SEO for Gyms Takeaways
Optimize The URL, Titles & Headers
Make sure you optimize The URL. It should be short with the post name. For Example, you wrote a post on weight training for beginners. Then your slug should be www.gym.com/weight-training-for-begginers/.
For optimizing your Titles. Make sure you use your keyword in it. This is the reason why you are writing the post.
Lastly, to optimize Headers. You should use only one H1 heading that is for your title. After that use the H2 heading followed by H3 or H4 whichever may be true. You have to use your keyword in this also.
While incorporating your keyword. Don't write it in a way that sounds generic. Use your creativity and make it sound human.
Contact Page
You should must have a Contact Page at your website. This should list your –
Phone Number
Address(es)
Email
Social Media Handles
Hours Open
These are helpful to make people interested after reading your content to take a call to action. Try to make your phone number clickable.
Google My Business and other directories
Create your profile at Google My Business. Own your business. Update it with the necessary information. Reply to comments through here.
This will also help you to rank in Google Map Searches.
Apart from this, you can also list yourself in local listings like Bright Local. This will help you get seen more and it increases traffic to your website.
Mobile Friendly
To have a better impact on SEO. You should make your website mobile-friendly. As 54.61% of users use mobile. It is the duty to make our website more inclined to those. You can use AMP to make your website mobile-friendly.
Page Speed
No one likes to wait after opening a webpage. The stat shows bounce rate increases as the page loading time increases –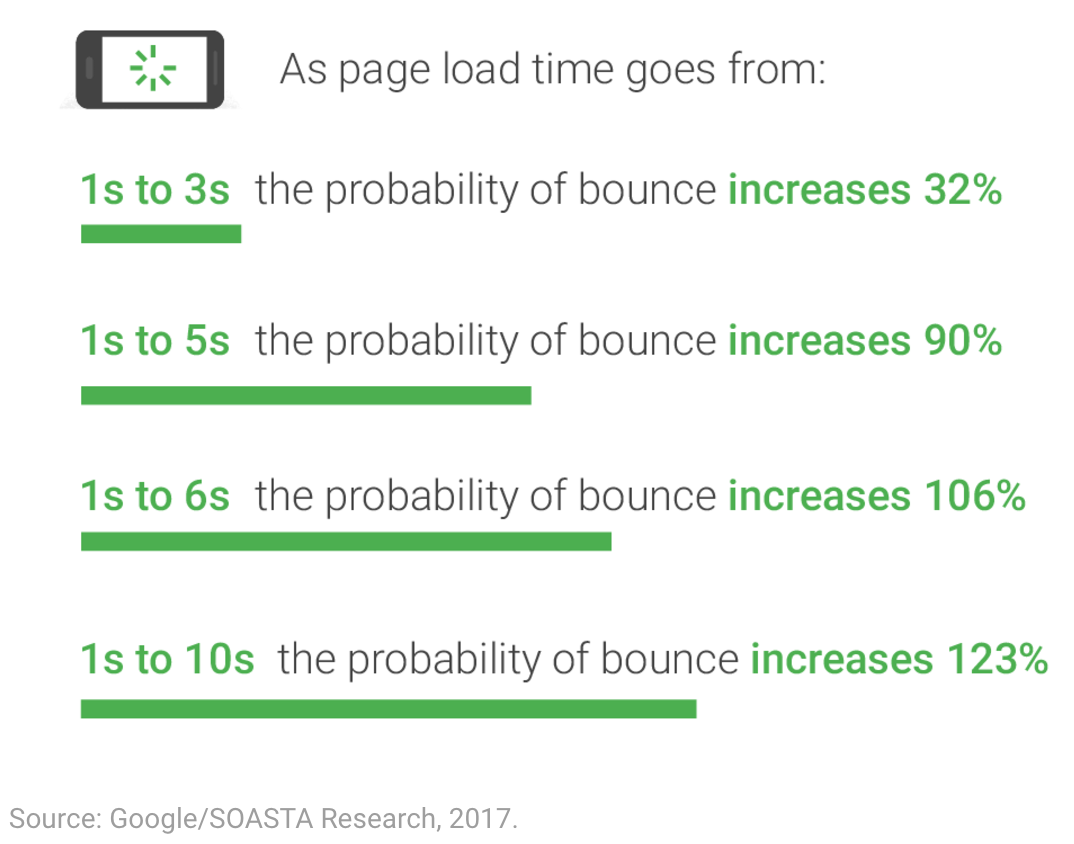 To check you page speed. You can use any page-speed analyzer. Make sure you make it within the limits.
These are the essentials you need to follow while performing Gym SEO.
Conclusion
That is it!
Fighting to climb SERP is tough. It is a lot of effort put in. You might see the results of these later in the future. But the audience you will be having through SEO has a high LTV (Life-Time Value).
Try to be creative with the keywords and take the best out of performing SEO.
Online efforts are always seen in offline realities. So, build the best gym business you can.