Everyone today searches for any kind of problem related to Health on Google. To check the symptoms or to know the cure. This is why SEO for Doctors is important.
Doctors and Health Specialists need to be ranked higher on Google's Search Result Page.
There are many doctors and health specialists already ranking in the result pages. You should too!
But how?
With the magic of SEO. What is that? Let us learn!
SEO Meaning
SEO or Search Engine Optimization is the optimization of a website/blog for ranking in Google's SERP (Search Engine Result Pages). To make sure you don't copy or use the wrong ways to rank in SERP. Google uses bots or crawlers to check your website of Plagiarism, Keywords, Backlinks, and User Experience. If these metrics and others are found to be credible. Performing SEO is helpful as –
It is a free investment that generates thousand-dollar leads.
Help with your knowledge and convert visitors into clients
It is easy to master
That is why SEO can be a great help for doctors. All you have to talk about a topic. This will be your keyword which the people are searching for. You answer their queries and you get ranked first. This is the whole process and meaning of SEO.
Now let us learn about SEO for Doctors who deal locally –
Local SEO for Doctors
Local SEO is a sub-part of SEO. It is based on the local searches by people. Google curates our searches. You must have seen it whenever you search for anything local. It automatically shows you options in the dropdown menu of your city or locality. This is why location-based searching can help you get more clients that are situated locally. To target them all you need is to be specific about the location you want to target. You will get the results as the locals will be directly consulting you.
Doctors, agents, contractors, plumbers, and everybody near is leveraging Local SEO to be more visible in the local area. No matter what pops into a person's mind. The first thing they do is Google it. They search for solutions for any problem to restaurants or doctors near them. "Near me" searches have shown a tremendous increase in volume over time. It was the best time to start SEO 5 years ago and the next best time is today.
Why Do Doctors Need SEO?
Doctors need SEO to be seen in the search results as 5% of daily Google searches are health-related. This data tells us why doctors should use SEO for themselves or their clinics. To answer all the normal health-related problems to problems people feel hesitant to talk about. This will give you a competitive advantage over other medical practitioners.
What else are you waiting for?
Let us get you more equipped with SEO knowledge so that you get the best out of this new platform.
SEO Keywords for Doctors
What keywords to target when starting with SEO for Doctors. Well, there are many keywords you target and there are plenty of options for you as a doctor to rank in Google Search Result Pages. But the main question is that what keywords have more search volume. To be a master in applying SEO you have to think like a marketer. You have to target keywords with more volume. You have to keep yourself in the mind of searchers. We have to search with the searcher's intent. What they must be looking for for a specific problem. This how SEO Keywords for Doctors will be enlisted. For more depth let us learn how to do keyword research.
Keyword Research
You can use the following options to perform keyword research –
1. Brainstorm
Use the searcher's intent and write down keywords you think your audience will be searching for. Doing this you will have a lot of eywords.
Using Google Trends to know the volume of your keyword you have brainstorm. Choose the one's with high search volume.
Use Google Autocomplete to see what else your audience is searching for. This will give you different phrases for your keywords. You can even get the synonym words that your audience is searching for.
This keyword planner by Google Ads is totally free. This will be helpful to know the volume of keywords you are targeting. This will help you target the keywords with high volume and get a broad audience.
This is a keyword tool and also a chrome extension. While you are typing your keyword in Google. This shows you the related keywords and long-tail keywords related to your search. I personally use this tool and I have done my keyword research with it. You can see I made you land here with these keywords.
These tips will help you to get the best out of implementing SEO on your webiste –
SEO Tips for Doctors
Blogging for Healthcare SEO
With the help of keyword research, we did the previous step. Now it is time to tailor the blog around it. Answer the questions by targeting keywords. Try to get the best content for your audience. Make your articles readable. Use short sentences and user-friendly language. Google Crawlers also rank you based on the readability of your content.
Website Interface for SEO for Doctors
After you have written your blog. You have to make sure you have a great website experience. This includes user friendly website. Make sure you website speed is fast. This means that your website should load within 1-3 seconds of time. You can check your website speed and try to fix it.
Also, as 53% of people make searches from mobile devices. You have to make your website mobile-friendly. If your website is not make sure you fix it.
Google My Business for Local SEO for Doctors
Claim your profile at Google My Business. This is important as writing content for your website. This will help you get more audience as whenever someone searches "near me" profile listed on Google My Business appears. This is why it is necessary to set up and claim your profile here.
This will help you redirect customers to either your website or make them call you. It is seen that businesses with Google My Business rank higher in the search results and get more leads.
Reviews for Medical SEO
Getting reviews and testimonials is always been a factor to get more patients. The same goes for Google My Business reviews. Get your patients to leave you a review. This will help you get an outstanding profile as the reviews are the most crucial step to get patients. They trust you based on people got treated by you. So make sure you use it to get more patients to your website.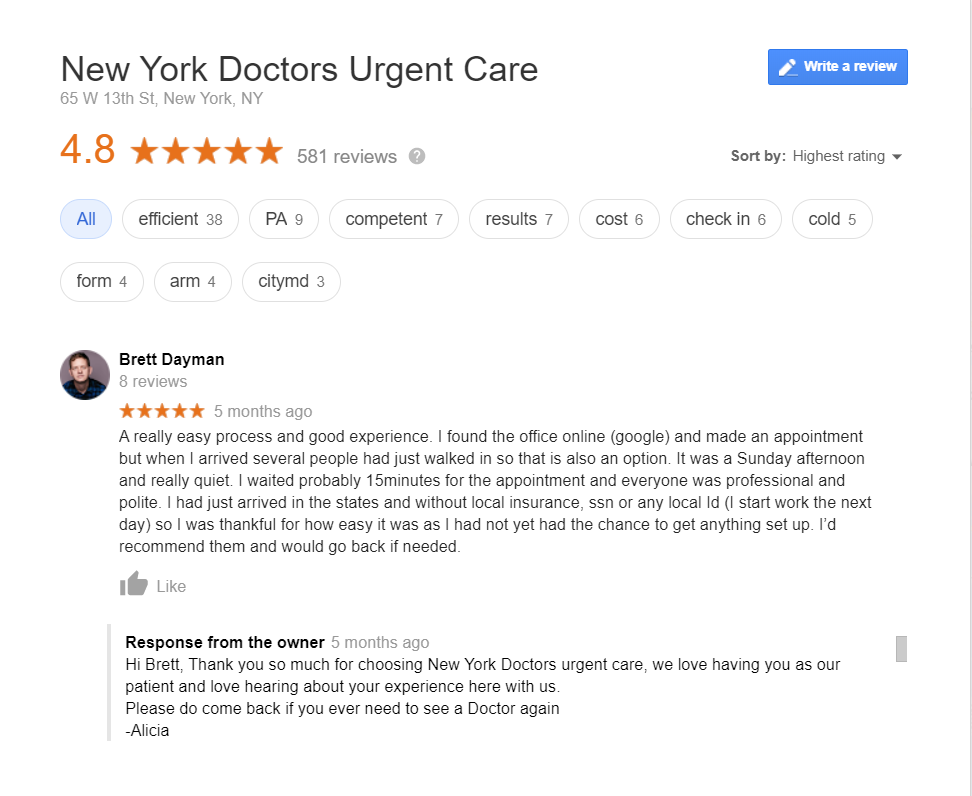 Optimizing SEO for Medical Websites
Optimize your website with Title Tags, Meta Description and Pages with keywords will help you get more traffic to your website.
To optimize Title Tags you have to keep a length of 55-65 characters. Longer than this will make you get cut by Google Search Results. Make sure your keyword is present in it.
To optimize Meta Descriptions you have to keep them under 160 characters. this should also include few keywords but don't stuff it. This is the summary that visitors read before entering your result on the result page. So make sure it describes your webpage.
Quality Backlinks
Backlinks are the websites that mention you in their content or links your content. These websites should be the webpages with high domain authority. This means that they should be getting a high amount of traffic. It can be any local or national website that may link you to their content. This will give you credibility by Google as you are linked by some Trustworthy website. This is called Backlinks or Link building.
Social Media for SEO for Doctors
Make sure you are omnichannel. This means as you are using SEO. You must be present on Social Media platforms too. Having a Facebook Page and having a 5-star rating can help you get a higher ranking in Google SERP. Use this little secret tip that no one is sharing with you.
Listing in Medical Directories or Medical websites
Like backlinking you can also list yourself in Medical Directories or websites related to the medical niche. This will help you get in front of the people already searching for doctors at these websites. This will help you get more credibility with your website which increases your credibility in the eyes of Google. This then leads to your website ranking higher in Google Search Engine Rankings.
Wrapping Up SEO for Doctors
This is it! I have told you the magic of SEO which no magician should do. But as your consultant I'm always here to cross my limits.
Make sure you use these tips to increase you Google rankings. It takes time to see results like you say after prescribing medicines. But it will show results.
CTA (If you think it is too much time away from your patients. I'm here for you to help you out. If I can bring you here then I can use keywords which can help you rank higher in search engines. Mail at help@adsconsultant.net)
Signing off! Your Ads Consultant!